2020 Honda Ridgeline Engine & Performance
By Product Expert | Posted in Honda Ridgeline on Friday, April 3rd, 2020 at 3:49 pm
The 2020 Honda Ridgeline continues the tradition of bucking pickup truck trends, just like the first Ridgeline did almost fifteen years earlier. By providing lots of power with a V6 standard engine, and by employing innovative and intuitive design, the Honda Ridgeline sets itself apart from the competition. It's more than just another midsize pickup truck. To learn more about what makes the smart, powerful, and capable 2020 Honda Ridgeline one of the most popular midsize pickup trucks, read on.
2020 Honda Ridgeline Engine Specs
The engine inside this midsize pickup displaces 3.5 Liters and gets its power using six cylinders. At its best, this beautiful piece of machinery can produce 280 horsepower and 262 lb-ft of torque. With a 9-speed automatic transmission, 2020 Honda Ridgeline owners get to take advantage of all that power and use it how they see fit. Not only that, but the Ridgeline also delivers a comfortable, high tech interior sure to please all passengers. Drivers of the midsize pickup get well-rounded performance carrying heavy payloads, pulling big trailers, and while driving in the city, or on the highway.
---
How Innovative is the 2019 Honda Ridgeline Truck Bed?
---
2020 Honda Ridgeline Towing
Since AWD is either available or standard on every trim level of the 2020 Honda Ridgeline, shoppers can determine how important AWD is to them and go with it, or without it if they won't have a use for it. Drivers who intend to spend more time off-road or who spend time driving on snowy or slick roads should elect for AWD-equipped models. This is also true for shoppers looking to buy the Ridgeline as a towing machine. AWD-equipped models can tow up to 5000 lbs. when properly equipped, whereas FWD-only models are only rated to pull up to 3500 lbs. when properly equipped.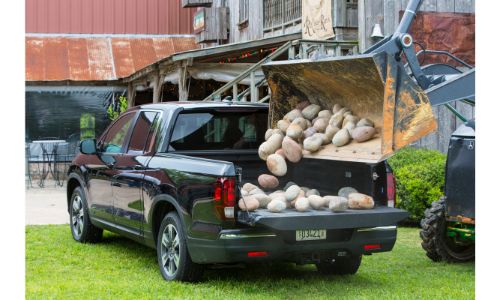 2020 Honda Ridgeline Payload
Obviously, since the Ridgeline is a midsize pickup truck, it isn't rated to carry ton after ton in its bed, but it can still carry enough weight to stand up to most light-duty jobs. The following 2020 Honda Ridgeline trim levels are rated to pull payloads as listed below when properly equipped:
Sport: 1,465 lbs.
Sport AWD: 1,580 lbs.
RTL: 1,452 lbs.
RTL AWD: 1,569 lbs.
RTL-E AWD: 1,499 lbs.
Black Edition AWD: 1,499 lbs.