Technology Features on the 2018 Honda CR-V
By Product Expert | Posted in Honda CR-V on Saturday, January 13th, 2018 at 2:33 pm
If you're looking for a little more out of your next sport utility vehicle, you're going to love the standard and available technological advancements on the 2018 Honda CR-V.
At Melloy Honda here in Farmington, we know that you're going to be amazed by what the 2018 Honda CR-V is capable of doing. In addition to looking sharp, and being able to get you through any condition that the road throws your way, the 2018 CR-V is also one of the more innovative and technologically advanced SUVs on the market. Don't believe us? Keep reading to learn about some of the technologies that are standard and available on the 2018 CR-V.
View our CR-V Inventory
Blind Spot Information System
Coming standard on almost every CR-V trim level, the Blind Spot Information System is a great way to keep an extra set of eyes on the area around your CR-V. This helpful feature is able to utilize sensors located on the rear bumper to monitor areas that you may not be able to see simply by looking out the side-view mirror. If the system detects another vehicle alongside of you, it will illuminate an indicator light located on the corresponding side-view mirror to let you know it isn't safe to change lanes.
Rain-Sensing Wipers
Available on the 2018 CR-V are rain-sensing front wiper blades. If you're like us and hate being the person who never knows the right speed to put their wipers on, this feature is perfect for you. When rain hits your windshield, these wipers will automatically adjust their speed based off of how much or how little rain is falling. When it senses more rain, they will speed up. Less rain, and you guessed it, they will slow down. No more being the person with their wipers at full-blast while it's misting out.
Adaptive Cruise Control
Another feature standard on most CR-V trim levels, the Adaptive Cruise Control system is perfect for those times when you catch up to a slower car while you're cruising down the highway. Instead of manually adjusting your speed, let your CR-V do it for you! A sensor located at the front of the CR-V monitors the distance between you and the car ahead of you. When it senses the distance is shrinking, it will slow your CR-V down. When the distance is becoming larger, or you free yourself from traffic, it'll automatically speed back up to your set cruising speed.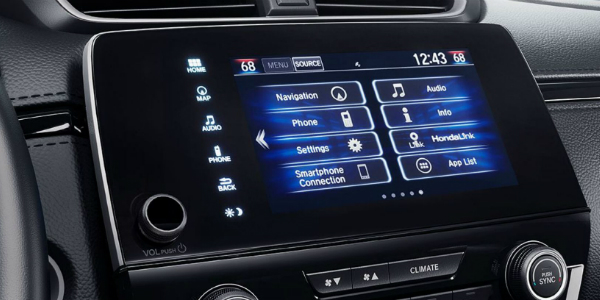 If you'd like to see these and more of the amazing technologies standard and available on the 2018 CR-V, come on over to our dealership to check one out for yourself! We've got a wide range of CR-V trim levels that we know are going to have everything you and your family have been looking for in your next vehicle. You can even take one out for a test drive!
Learn More About the 2018 CR-V